I came up with this recipe last October (2010) and it has become a family favorite. It really is yummy.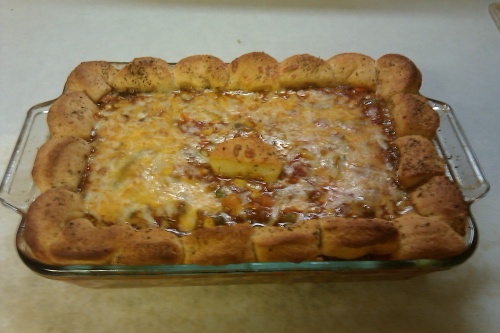 1 1/2 lbs beef
15.5 oz can sloppy joe mix14.5 oz can diced Italian style tomatoes
1 10 oz frozen mixed vegetables
2 cups shredded cheese (I used cheddar & mozzarella)
1 tube (12oz) biscuits
1 tbs melted butter
1/2 tsp oregano
Brown beef and drain. Stir in sloppy joe mix and tomatoes. Bring to a boil. Turn down stove and simmer about 10 minutes. Stir in mixed vegetables and 1 1/2 cups shredded cheese. Stir until cheese is melted.
Transfer mixture to a 13 by 9 baking dish coated with cooking spray.
Split each biscuit in half and arrange around the edge of the pan. Brush with butter and sprinkle with oregano. Sprinke remaining cheese over meat mixture.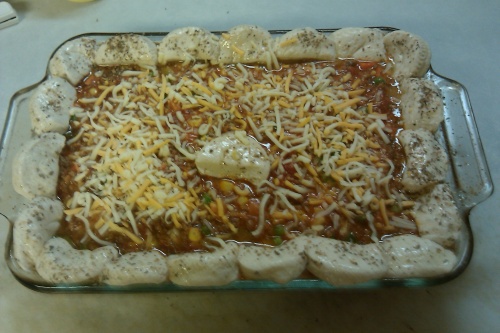 (Before Baking)
Bake, uncovered, at 375 degrees for 25-30 minutes until biscuits are golden brown.
Makes 8 servings.
Download PDF of this recipe HERE.