Due to all the struggles we have had this past year with school, we had not taken any field trips. But with the kids no found dedication, I decided we needed to take some time off. On St. Patrick's Day we went to the Charlotte Nature Museum. My Dad joined us for this little excursion. We had not been there before and were amused by its location. It's set behind a local park in what I would describe as a residential neighborhood. We enjoyed ourselves but were surprised by how small it was. It took only about an hour or so to go through at slow motion. It had interesting displays and quite a few live animals. When you first come in the lobby houses an incubator with chicken eggs and a young chicken. There were also frogs and white mice at various stages of development. The next room housed different kinds of bugs and was the precursor to the reason I decided to give the museum a try. It had a butterfly pavilion. There was only one species of butterflies, zebra butterflies, hatched and flying around. That was cool to have 25 or so butterflies fluttering all around. The pavilion also housed a pair of white doves.
The next room we visited had snakes, amphibians and several species of turtles. There were horned and barred owls, a possum, and a mink. The remainder of the museum had different taxidermies of birds and other mammals. There was also a cute play area inside for wee ones. We were most amused by the nature trail which consisted of a lot with a trail around it and a few plant markers scattered here and there. I think because we are a family of born nature lovers we were a bit disappointed. My father and I discussed the fact that finances probably are reflected in the maintenance of the museum. All in all we did enjoy getting away from our classroom and spending time together.
One of the silly highlights of the museum was the bug room. We played around and gave another meaning to the term "wearing of the green".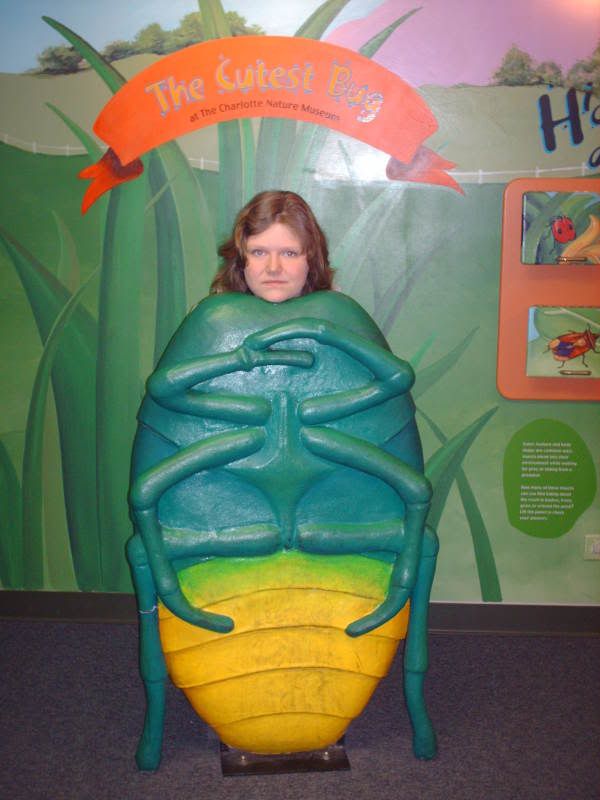 We also had fun goofing around as a fly.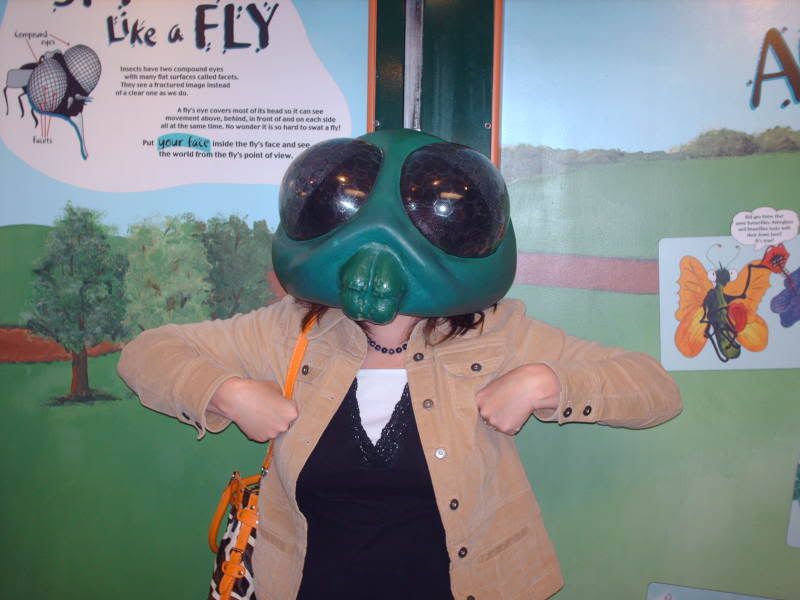 Would you believe we were smiling under there?
There were a few groups of young ones who were at the museum and they seemed to enjoy it. I think it is a great beginning museum for those wanting to learn a bit about the natural world.