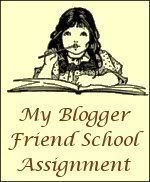 Memory Verse:
1 Corinthians 10:13
No temptation has seized you except what is common to man. And God is faithful; he will not let you be tempted beyond what you can bear. But when you are tempted, he will also provide a way out so that you can stand up under it.
Introduction:
Betcha' Can't Eat Just One (Lays Potato Chips)
This weeks topic deals with eating potato chips and how good they are. I love salty foods so I have a terrible time eating just one. Along with these chips that I can't eat just one of, I cannot get enough of studying my Bible. I think it's ironic that chips (salty foods) are such a temptation. In the Bible (Leviticus) it tells us that salt is regarded as a disinfectant and when babies were born the midwife covered the baby with salt to clean its body and also to ward away any evil spirits or demons.
Assignment:
Tell us about something that you can't get enough of and what scripture(s) in the Bible you cannot tear yourself away from.
I mentioned in December 4th's Homeschool Memoirs post that I enjoy m&ms. Well, that definitely is the thing I can't eat just one of. Not even one handful. It seems once I get started I have to restrain myself not to finish the bag. Of course, if I had bought the snack size baggie I would be good but we always buy the big, family size which is easily my downfall. That is not good. Besides the unnecessary added calories I usually end up with a bad case of heartburn. I think that my m&m issues could be used as a life lesson: too much of a good thing and all that.
I'm sure I have said this before, but I absolutely love to read the Book of Proverbs. I have been through it many, many times and every morning I include a chapter in my morning readings. Every time I read it I learn something new.
Proverbs 18:20
A man's belly shall be satisfied with the fruit of his mouth; and with the increase of his lips shall he be filled.