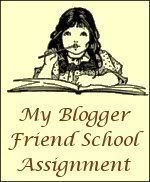 Memory Verse:
Ephesians 4:29
Do not let any unwholesome talk come out of your mouths, but only what is helpful for building others up according to their needs, that it may benefit those who listen.
Intro:
Computers Help People Help People (Marketing credit: IBM)
There are many ways computers help us. It is a wonderful way to stay in touch with family far away, "meet" other christian women around the globe, and it can be such a blessing with homeschooling.
Assignment:
Share some of your favorite homeschooling sites. The only "rule" for this assignment is that you have to list at least one "free" site. Many homeschooling families have made the choice to live on very little income to do what they believe is best for their children and I want everyone to be able to benefit from this assignment. If you have other sites that are "paid" sites, feel free to include these also as it might be something someone would really appreciate. If you feel led, share your curriculum choices with us. I always love to learn what is out there that I don't already know about. Please make sure to include links to the sites you share.
I try to share all the great sites that I find as I find them. So instead of re-listing them here, you can look through my Websites and Resources category pages to find what may suit your needs.