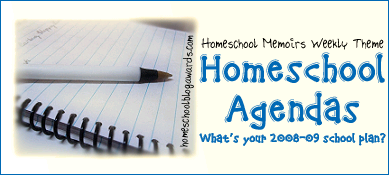 For this week's Homeschool Memoirs we are to share our 2008-09 homeschool agendas and plans. We have not changed much from my original plan posted July 18, Book Choices. I had forgot to add Vocabulary Cartoons-SAT for my son to the list. Also, after looking over the SOS History for my daughter, I have decided to create some different studies for History. She still wants to do SOS, so she will do both. We have slowing added the 'extra' subjects over the past few weeks, easing into a full schedule. This has proved to make the first weeks of school a little more hassle free. I have also begun to score their work a bit different than I had in the past. Instead of checking the work for errors immediately like I had done in the past and having them make corrections right away, they are now correcting their work the following morning before starting that day's assignments. For some reason I have noticed that less mistakes are made and they have a more positive attitude towards making the corrections. There seems to be a whole lot less arguments and frustrations. Go figure. I always thought it was better to correct everything as we made the mistakes but the way we have been doing it this year seems to be having better results.
I chose most of the books this year after much research and prayer, trying to match the kids' learning styles with the curriculum. Some things we have been using right along, like Saxon Math, LLTL, Spelling Power and Apologia Science and others are very new, like the Power Glide Spanish, US History Basics, Movies as Literature and Write with the Best (all HS courses).
I have finished entering all their lesson plans for the year into my Homeschool Tracker. While this was originally time consuming, it has made and will make it so much easier to assign the work and keep track of it. So far, so good.
Proverbs 15:22–
Without counsel purposes are disappointed: but in the multitude of counsellors they are established.