Yesterday we went to see the movie Kit Kittredge: American Girl. Although I'm not a huge fan of cute kiddie movies I found this one to be both entertaining and well made. From the previews I had seen I thought it might be a "Nancy Drew" type spin off, but I was mistaken. Starring Abigail Breslin as Kit, Julie Ormand and Chris O'Donnell as her parents and the other characters also played by well know actor and actresses, the talented cast took us back to a different time in history. I was taken by the period costumes and the wonderful settings. In one of the scenes there was a quilt on the bed just like one that I had when I was a little girl that had been made from old coats by my grandmother. (Wish I still had it)
The story is supposed to be about a young girl trying to get her stories published in the newspaper, but the underlying messages stood out more in my mind. Friendship, family values, and compassion were shown throughout the movie. I found the characters to be fun and believable as you watched them transform. I especially liked Julie Ormand's portrayal of Kit's mother. I also learned a little bit about the "hobo jungle" that I had not known. I was pleased by the movie's portrayal of the depression and how it seemed to capture aspects of that time simply, but not overwhelming the young viewer with the grimness of it. Although this may not be a 'deep' film, I thought it was worth the trip. I have not seen the other American Girl movies, but if this one is an indication of their quality, I may have to. I can see the potential of a steppingstone in elementary history study.
(Their expressions are not because of their movie experience. It was the sun. LOL)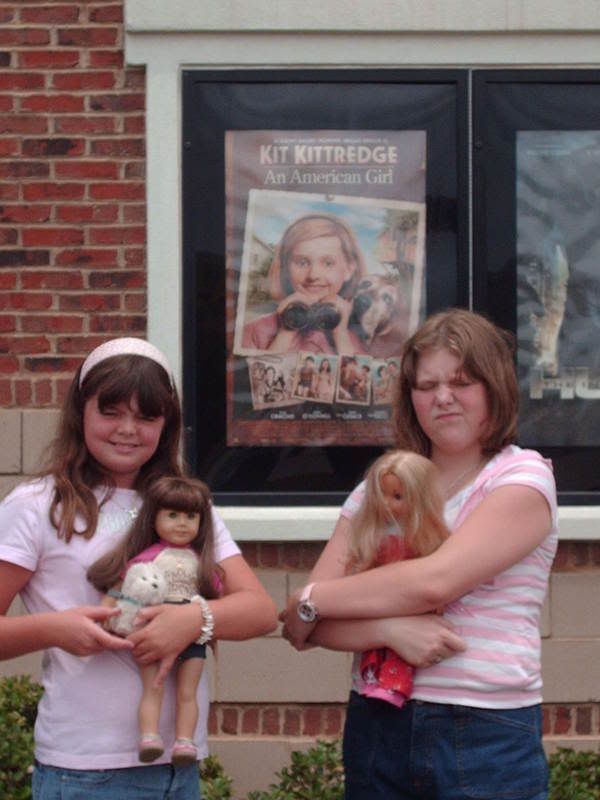 If you would like to read more about this flick check out the Kit Kittredge website.