With mother's day fast approaching, I thought I'd share a bit about my mom and some of the adventures she had while raising 4 children.  She can tell the stories so much better than I because she survived them but I will give you a few of the highlights.
My mom was married in 1962 and by 1966 she had 4 children, 2 of which were born in Spain.  That in itself must have been quite the experience.  If memory serves me, she had her first house in 1967 where most of these tales took place.
We were a lively bunch.  Aside from giving each other regular haircuts, my mother had to deal with the added 'tar bath' treatments that we seemed to get into.  While a new house was being built next to ours, we seemed to be drawn to the black gooey stuff they were using to seal the foundation.  Needless to say, we would present ourselves to her covered in the stuff.  She would put us in the tub and scrub until we came clean.  I'm sure the hair must have presented a particularly difficult task. Trips to the emergency room became a  regular routine because if we weren't supposed to do it or eat it, when she wasn't looking, we did.  We were notoriously skilled in escaping the safety of our fenced-in back yard.  We grew up a stones throw from a large lake, which was inviting year round.  One winter when the lake had begun to freeze over, she received a call that one of us was on the lake.  I can't even imagine her horror.  Then we must not forget the time when one of my siblings came running down stairs to get a glass of water, and went running back up with it.  I'm sure alarm bells went off in her head.  She went to see what they were up to and discovered a fire in the bedroom.  She tried to smother it with a blanket but that caught fire.  She quickly gathered all of us together and got us safely out of the house.  The end result must have been devastating to her.  The whole second floor was destroyed.  All of these things happened within the first 7 years of her life as a mom.  I would have been committed.  I think this was her training for our teen-age years because believe me, it didn't get much better and she dealt with it all: the meltdowns, the disobedience, the trouble, the drama.  Through all that we put her through, she continued to love us and support us.  She went to every event, hauled us to all kinds of activities, took us to swim at the lake just about every day of summer, kept us well fed and made us beautiful clothes. She was and is an awesome mom.  I really believe that her faith in God gave her the strength to deal with all the garbage she went through raising us.  And do you know what?  We all turned out to be pretty good adults, if I do say so.    For all that we put you through, thank-you for sticking to it and doing a wonderful job.  Words can't express how deeply appreciated and loved you are.
@1968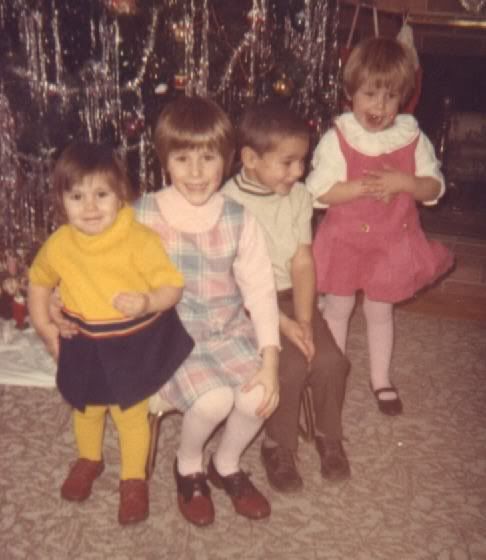 1997(Last time we were all together)