Because my son's birthday is coming up, I thought I'd share a bit about his entrance into the world. My pregnancy with him was pretty normal with only the normal complaints of nausea, heartburn, swollen ankles and not being able to see my feet. We lived in a 3rd floor apartment so I had plenty of exercise going up and down the flights of stairs, but I still gained 50 lbs. (My starting weight was 129lbs, so I was a bit underweight to begin with).
I was working in a factory making mascara brushes at the time and had put in to stop work about a week before my due date of April 12.  The night before I went into labor, my husband and some of our friends grabbed our fishing gear and we all went catfish fishing.  While we were at the lake it began to snow a bit, which isn't all that unusual for New England, but we continued to fish.  I didn't catch anything but my husband did.  We returned home about midnight and went to bed.  In the morning I woke to some discomfort and cramping, but shrugged them off to the Braxton Hicks that I had been having for quite a while, after all I wasn't due until at least the week-end.  As the day wore on they continued and got stronger.  I called my midwife and she just told me to monitor them.  So I kept a record of every contraction.  My husband came home from work about 12 hours later and I had him time them.  By this time they were getting pretty uncomfortable but at no steady intervals.  Around midnight I called they were getting pretty bad so I called the midwife again.  She said we could come in or we could wait until they were 5 minutes apart.  I decided I didn't want to wait so we drove the ½ hour to the hospital.  I was in labor for another 4 or 5 hours when they broke my water and then it got really painful.  They had me walking up and down the halls when all I wanted to do was lay down.  Then the time came to begin pushing.  They put a monitor on my belly and kept having trouble getting his heartbeat.  I began to push and his heartbeat would drop to almost nothing.  He was tangled up in the cord. It was wrapped around his leg, under his arm and around his neck.  Then things got really crazy.  I wasn't allowed to push.  The midwife reached in with her fingers to try to get the cord untangled.  Then they tipped me up so I was almost standing on my head.  I remember that every time I had to push, I said the Lord's Prayer.  It was the only thing that I could focus on. The only pain meds I had was the epidermal.  After about an hour of them trying to get the cord right, she told me to push.  This whole time she is still working on the cord.  I pushed 3 times and then he was out.  My husband told me that he watched as our son arrived and the midwife gracefully slipped the cord over his head and then untangled him for his safe arrival.  He was born on April 8th at 8:09 am, weighing in at 7lbs, 13oz. and 21 ½ long.    The first months of his life were pretty scary, (he had sleep apnea, a.k.a. SIDS) and there were a lot of trying times, but he has grown into a wonderful man who I am very happy was placed into my life and I couldn't love more if I tried.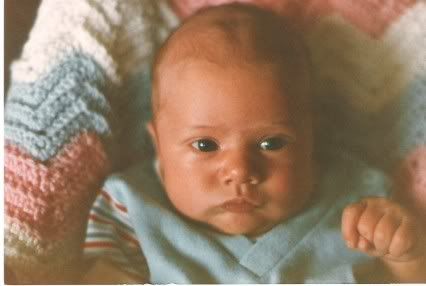 My favorite picture of my son at 1 month old.