I'm not terribly found of daylight savings. Whether we spring forward or fall back, it sure does mess me up. I'm not sure of the science behind why changing our clocks can have such an effect on our lives but it does. I still wake up basically at the same time everyday, but then I look at the clock and either freak out because it's late or roll over and go back to sleep because it's early, depending on which time change we are in. It has the same effect on the kids, even when they were little and couldn't read time. It wouldn't hurt my feelings any if we did away totally with the whole daylight savings program.
I like clocks so setting and resetting them takes a while over here and inevitably one usually gets neglected for a while. Each one has it's own history. I thought in recognition of daylight savings I'd take you on my trip around the house to change the time.
We'll start off with the upstairs:
In my daughter's bedroom you will find she has two clocks of her own: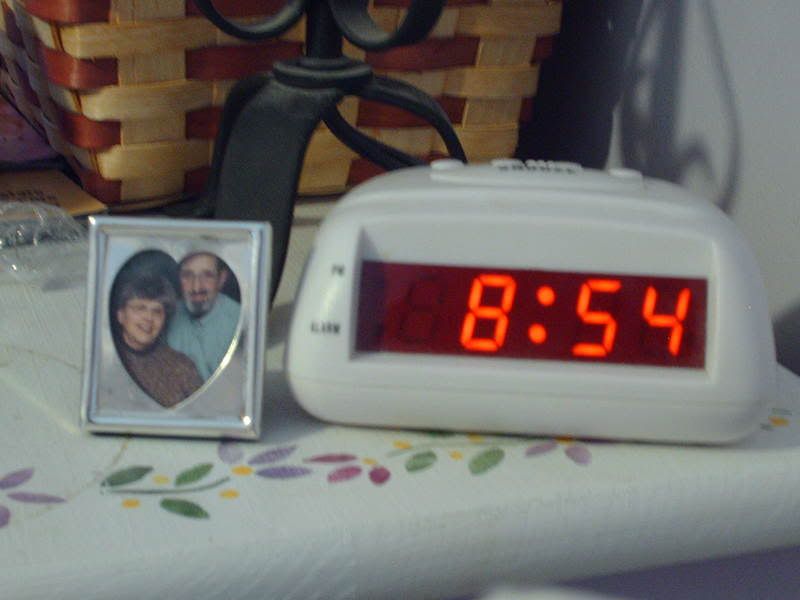 In my son's room he has two clocks also:
He's not much for time. This one is never set right. (It was 10:25 when I took this picture)
In my bedroom you will find a few more: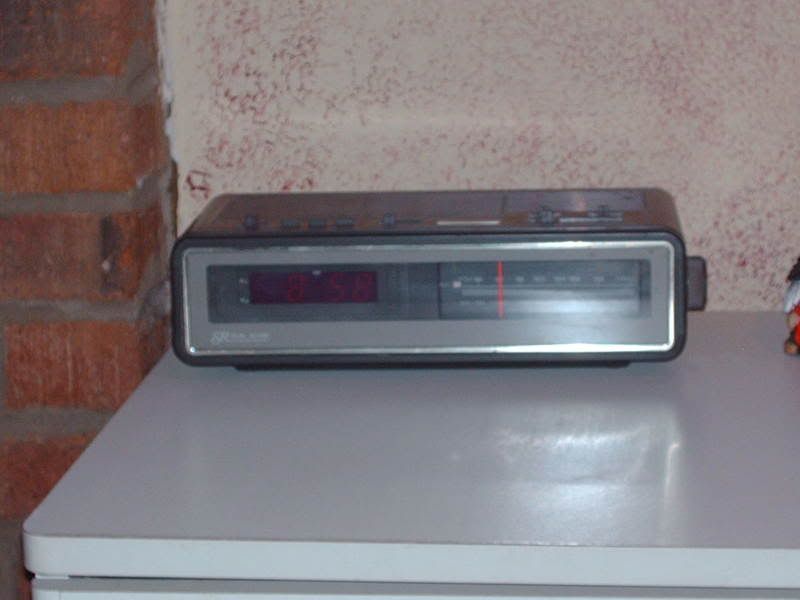 My Aunt and Uncle gave us this for our wedding. It has dual alarms, a battery back up and a radio. We don't use the alarms (our TV is our alarm clock) but it has been a great timekeeper.
This is the newest addition to our collection of timepieces. I gave this to my husband for Christmas this year. He had mentioned that he wanted it because it projects the time and the outside temperature onto the ceiling in the dark.
In the classroom is this one little alarm clock: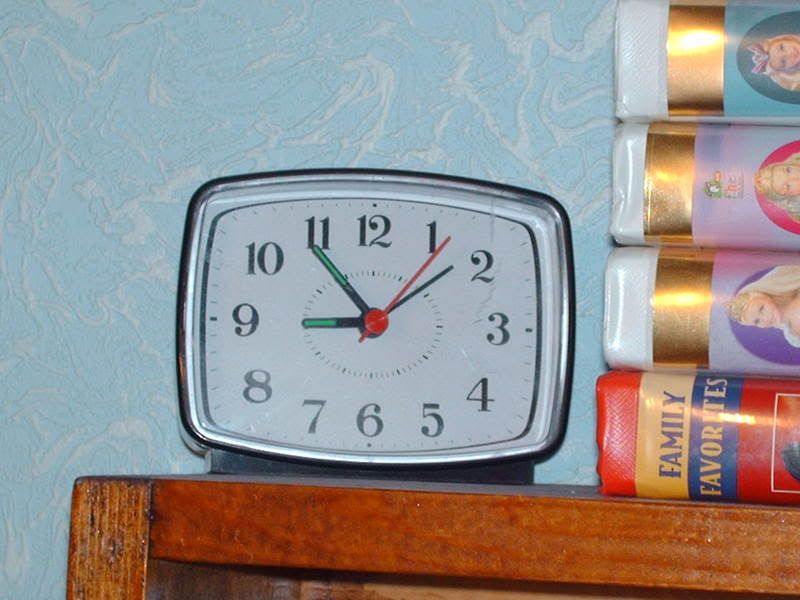 And this clock I made:
I didn't notice until a few years later that I had messed up on the Roman numerals for '9'. LOL
Now let's head downstairs.
We'll start off in the kitchen:
My husband bought this for me when we painted the kitchen to match the border pattern I had chosen.
Then we move to the stove…
And then on to the 22 year old microwave…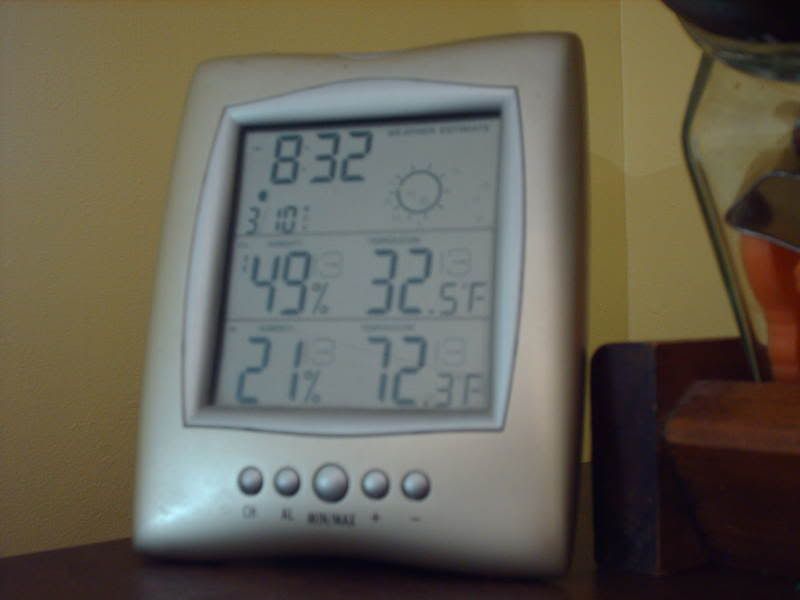 On top of the microwave, this clock sets itself, thank goodness, because the directions are pretty confusing.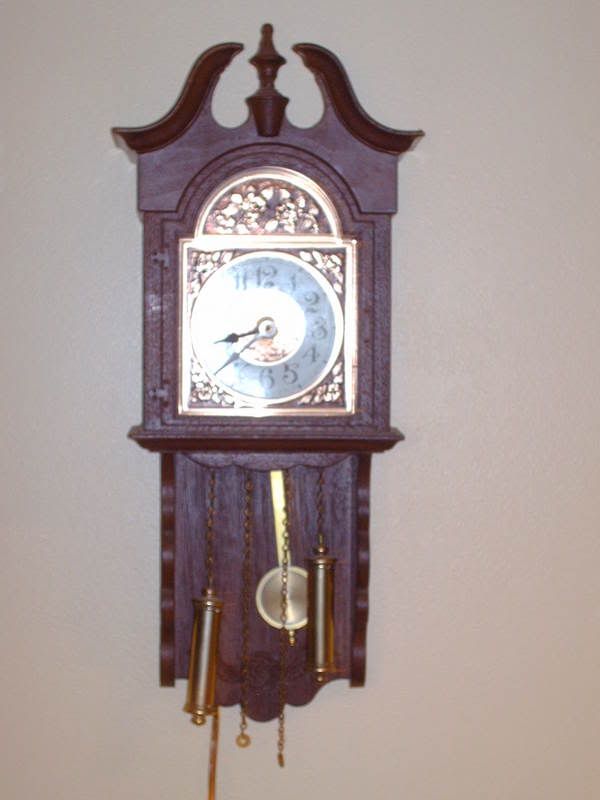 This one is above the fridge. When I was younger. I had got this for my parents. Does anyone remember Green Stamps? My mom would give me the stamps and I would put them into the little books. I saved them up until I had enough to cash them in for this clock. When they moved into their new home they really had no place for it so they gave it back to me.
On the backside of the wall where the apple clock hangs is this special one.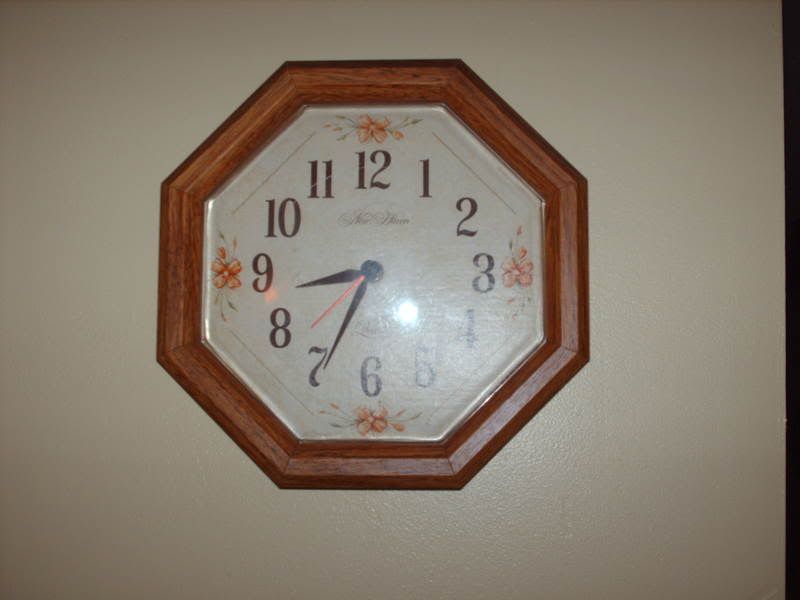 Before I was married, the ladies in the factory where I worked took up a collection and bought this for me as a wedding gift. It has an extra special meaning for me because it was my best girl friend(one of my daughter's namesakes) that had collected the money and chosen it for me. She had died a few years later.
This one is in our office. My husband's daughter gave it to us.
Now let's take a stroll into the living room.
How many of you have one of these that play a different bird call for each hour? I love birds and whenever this one chimes, my parakeets sing up a song.
On top of our stereo cabinet (which doesn't hold a stereo but is filled to the top with games), you will find these:
We got this one in 2002 for free when we went to Disney.
Fell in love with this one that we found at a tag sale a few years back.
My fireplace mantle is adorned with these:
My oldest son gave this to me one year because he knew that I always wanted an anniversary clock.
This one is very special. My husband bought it for me on one of first dates when we had taken a trip to Hampton Beach. It is made from a sand dollar and the artist had the same name as me.
My mom gave this to me for Christmas a few years ago. I love the old styling of it.
This is my ultimate favorite. My parents bought this cuckoo clock for my Pepérè and Memérè (my dad's parents) while they were in Spain before I was born. On the back has the year '1962' on it. I have fond memories of our visits to my grandparents house and hearing it cuckoo. My dad gave this one to me also when they moved. It wasn't working at the time, but I went on line and did a lot of research and was able to fix it. The only problem is it drives my husband nuts, so I don't have it running. But whenever I look at it I am taken back to those sweet childhood visits.
As you can see, I have a bit of a collection spread throughout the house. That doesn't take into consideration 4 wristwatches and the clocks in the cars plus the clocks on the computers which luckily reset themselves. Now you get an idea of one of the reasons I'm not so terribly fond of daylight savings. It can be time consuming. (I know, how corny can I get)