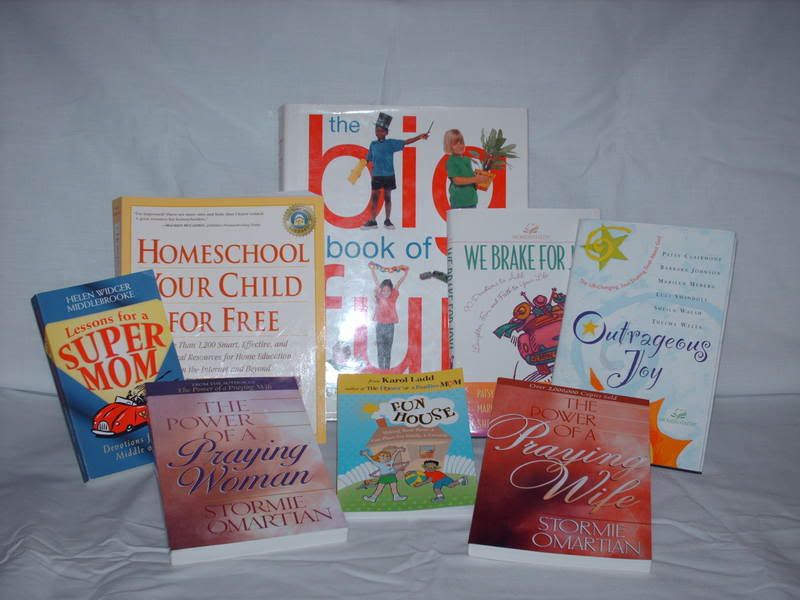 In a few days I will be celebrating my 1-year "Blogoversary" and I wanted to do something to commemorate the day. So I came up with this giveaway. I have chosen 8 books to give to someone. These books have been blessing my bookshelves for a few years and I thought perhaps someone else could enjoy them.
The Big Book of Fun and Great Things to Do and Learn is a collection of more than 200 crafts of all kinds for kids of all ages.

This hard cover book has color step-by-step instructions for all the projects.
Homeschool Your Child For Free is a great resource for websites and ideas.

There is also a scope and sequence reference chart in the back of the book. (Note:

This book was published in 2000 so some of the sites may be out of date, but still a great resource.)
Lessons for a Super Mom by Helen Widger Middlebrooke is a wonderful little devotional book for all moms.

I really loved this book.
Fun House by Karol Ladd the author of The Power of the Positive Mom is a little book full of all kinds of activities to do with family and friends.

After each activity there is a place to put your own personal notes.
The Power of the Praying Wife and
The Power of the Praying Woman both by Stormie Omartian are classic reads for the Christian woman.
We Brake for Joy is a collection of inspirational devotions that are sometimes quite funny from the Crossings Book Club Women Of Faith.
Outrageous Joy is a another collection of stories from the Crossings Book Club Women of Faith. (Both are are hard cover)
And to hopefully add some sugar to the pot, because of the overwhelming response to my quilled frame, I would like to make a special one for whoever's name will be drawn. So if you would like these books and a quilled frame, just leave a comment on this post, message me, or e-mail me with a way to contact you if you win (either a web address or an e-mail). So if you have been lurking in the background now is the time to introduce yourself and say Hello by February 17th. All the names will be put in a basket and the winner will be announced February 18th. Thank-you all who have been such a great support in my blogging endeavor.