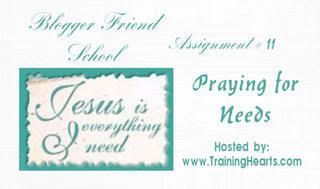 #1 The assignment this week is to visit your classmate's blogs and leave them a comment to let them know that you are praying for them. There are over 200 classmates that have signed up now!
I've begun to visit my classmates, but it will take quite a while to get to them all. I may be working on that part of the assignment for many days.
# 2 At the same time for your blog, please post any prayer needs that you have. The POWER of prayer is what binds us together with HIM!
Except for the healing of my husband's back, I honestly can say that I have been blessed enough not to have any other urgent prayer requests There are things that I pray for every single day, so I will share those requests that others might stand in agreement with me.
I first pray that God will use any gifts that He has given me for His purpose and that my many shortcomings are not a hindrance to me obeying His Word.
I continually pray for my husband, that he will be safe on the road and come home every night and that our financial situation will change so he won't have to work so hard.
I pray for my oldest son, that he may continue to grow as a man and not let bitterness keep him from finding a church home and a closer relationship with God.
I also pray that my younger children will seek Him in their lives
I ask that I will have the wisdom, knowledge, creativity and patience I need to be a good teacher and mother to my children, and discernment enough to know when I am teacher and when I am mother.
I pray for the health of all my family, especially my mom and dad, nephew, and uncle.
I ask the Lord to place people into the lives of those I love who do not have a relationship with Him and that they will be saved.
And I always pray for our men and women in service to our country: military, police, firemen, doctors, etc… Also for those on foreign soil who are persecuted for His sake.
Lastly, I pray that those who come to my blog will benefit from it.
Matthew 21:21-22-Jesus answered and said unto them, Verily I say unto you, If ye have faith, and doubt not, ye shall not only do this which is done to the fig tree, but also if ye shall say unto this mountain, Be thou removed, and be thou cast into the sea; it shall be done. And all things, whatsoever ye shall ask in prayer, believing, ye shall receive.