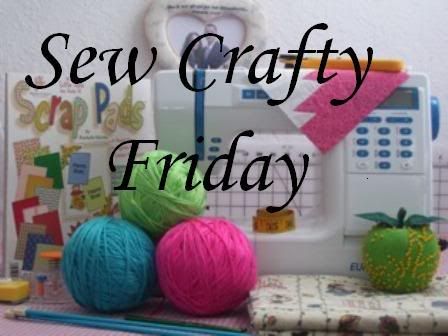 Shereen at Waiting for Him hosts Sew Crafty Friday.
This week has been a flurry of events. Monday morning was spent at the repair shop getting a new circuit board put in for the car radio. The lights had gone out, but now I can again see the time and the station. Thank goodness it was covered under a special warranty. That afternoon, my daughter had ball practice. Tuesday, about 12:30, just as we were getting ready to head out to ice skating, my oldest son called. He had been in an accident. He wasn't hurt, but the front of his truck was mangled. Wednesday was fairly peaceful, only Boy Scouts in the evening. Yesterday, daughter had ball practice again and right after that we had Girl Scouts. Today, my oldest is coming to dinner, (turkey legs cooked on the grill); daughter has yet another ball practice, and my other son has a camp out with the Scouts. Of course all the events are in addition to our schoolwork and household responsibilities. Needless to say, I didn't get much done on my cross-stitch project. What I did do I had to take out because I missed a row. UGGGGH! So I put it aside for the rest of the week. (I did do a bit of computer crafting for our schoolwork, which you can check out in the previous post below.)
I thought I'd share a picture of something I made about 2 years ago for a dear friend's baby shower. If I had to pin down my absolute favorite craft of all time, it would have to be quilling or what some call paper filigree. I like to design then create the projects. I've probably done a dozen or so framed wedding invitations and another dozen or so miscellaneous other projects for gifts but don't have any good pictures of them. I did get a decent picture of this one though. This was the first quilled frame I had done for a baby and I really like the way it turned out.