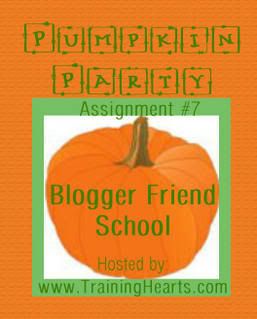 We are to share anything related to pumpkins. I was going to post this recipe a little later in November, but it fits the category.
I make a couple of these pies every year for the holidays. It is my family's favorite and doesn't last long in our house.
@ 2 cups cooked and mashed fresh pumpkin or 1 16oz canned pumpkin
2 eggs, beaten
¾ cup molasses
¼ tsp cloves
½ tsp ginger
1 tsp cinnamon
½ tsp nutmeg
1 2/3 cups of evaporated milk (12 oz can)
1 crust for 9-10" pie
Prepare crust in pie pan.
In large bowl, put beaten eggs and pumpkin. Blend together with a wire wisk. Add molasses and mix. Then add sugar and spices and blend until well mixed. Add evaporated milk and mix well. Pour into pie shell. ( I usually put the pie dish on a cookie sheet to catch any spills. I also put the cookie sheet and pie dish on the oven rack before I pour the filling in. I've had accidents in the past moving the filled pie to the oven.)
Bake at 425º for 15 minutes.
Turn the oven down to 350º and bake 35 to 45 minutes until a knife inserted in the center comes out clean. Cool. Store in the refrigerator.
The Homeschool Kids Write assignment has to do with pumpkins this week also. If you get a chance stop by there and check out what the kids have written.
One more fun post to check out is at Teacups in the Garden. She has a really neat post about pumpkin carving.
The Scripture that struck me when I was reading my Bible this morning was Colossians 2:16-17
Let no man therefore judge you in meat, or in drink, or in respect of an holyday, or of the new moon, or of the sabbath days: Which are a shadow of things to come; but the body is of Christ.