I have always loved the challenge of writing assignments and thought it would be fun to participate in Blogger Friend School hosted by Training Hearts. If you are unfamiliar with this, you can check it out at her wonderful blog.
Blogging was a completely new concept to me. I came across this site while looking for information about something else. I was so intrigued and loved the thought of being able to share my thoughts and ideas with a lot of people that I quickly joined. I have been writing ever since I was a little girl and have always dreamed of other people reading my words. I write because I would like to encourage, inspire, and entertain others.
My Dream Place to Blog would be: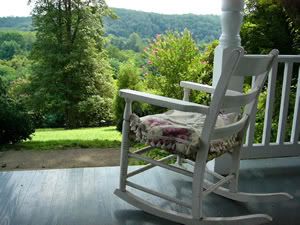 I usually try to blog in the morning before anyone else is up. Some days, though, I don't get finished before they get up and I end up posting later in the day.
My favorite drink is water.
My fovarite book is the Bible.
I have a few favorite dessets: Cheesecake, tapioca pudding, rice pudding, and apple pie a la mode with butterscotch syrup are my all time faves.
There have been many Scriptures that have inspired my continued growth with Christ. Isaiah 40:31; 54:17 and Ephesians 1:3-14 are a few of my favorite passages.