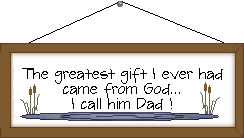 Your arms cradled me
When I was born
With love and lullabies.
They held my hand
As I learned to walk
And comforted my cries.
They wrapped me up
In all your strength.
They never let me fall.
I always knew
That you were there
To answer my every call.
With open arms
You let me grow
And encouraged me to fly.
With wings outstretched
You let me soar
And helped me reach the sky.
They gave to me
My every need
And helped along the way.
With gentle wisdom
They guided me
To who I am today.
And even now
As time has gone
I often reach out to you.
For the comfort of
My Daddy's arms
Will always see me through.
©2007 Virginia Donahue