You read that blog title correctly.  I was given the privilege of being able to review the New Living Translation Version of the Waterproof Bible, New Testament, Psalms, and Proverbs, from Bardin & Marsee Publishing.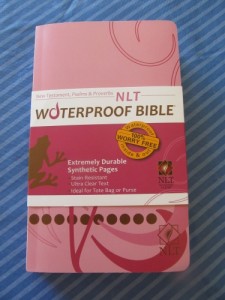 Ok, you might be asking yourself what is a waterproof Bible?  Why would anyone need a waterproof Bible?  I was asking myself that too.
Avid outdoors people, the creators and publishers of the Waterproof Bible, Bobby and Anna Bardin and Michael Marsee, found that taking a traditional paper Bible along on their excursions was not always practical due to the enormous possibility that it would be damaged by the elements.  Picture a canoe trip down the river and your craft overturns.  Not only will your items become soaking wet but what are the odds of a book surviving without doubling in size due to water permeation and be readable after it dried out?  Have you ever been on a picnic and all of sudden the skies open up and you are scrambling to pick up everything to save it from torrential downpours?  Or how often have you been on a camping trip that turned into a complete washout?  With these types of events in mind, you can see how the creators came to the conclusion that there was a need for something that could hold up to nature.
When my Bible arrived I was quickly impressed with the way it looked and felt. Besides those little, kiddy, puffy-page books for babies, I don't think I have ever seen a waterproof book of any kind.  I expected it to have that sticky plastic feel and smell like the baby books, but I was pleasantly surprised.  While the pages are thicker and have a slightly slick feel, they still feel like the pages of a sturdy book. The pages are not only sewn together into the binding, but are also glued, adding to the durability of the book.  While the print may seem small to some folks, I found it comparable to other smaller Bibles.  One really nice feature about the print is it is extremely sharp and the pages themselves are a bright white making reading very easy and comfortable to the eyes.
Environmentally friendly (not made from trees) and made from synthetic materials, the Waterproof Bible comes in 5 different translation versions:
English Standard Version
King James Version
New International Version
New King James Version
New Living Translation Version
The complete Bible is available (754 pages, 5 7/8″ x 8 3/4″, 8 pt font; $44.95) as well as a smaller, more portable version that includes just the New Testament, Psalms, and Proverbs (356 pages, 4 1/4″ x 7″, 7 pt font; $24.95).  Both have various cover design choices and you can even have the cover imprinted with a name or something else of meaning to you for an additional cost.
I actually found it difficult to bring myself to 'run it through the ringer" to test the claims of the Waterproof Bible being waterproof, stain resistant, no bleed through, etc. . .but my husband reassured me that while the Bible contains the Word of God, the product itself is made by man and that it would be okay to test it.
The first thing I did was I place the Bible outside on the grass and used a hose to simulate a rain storm.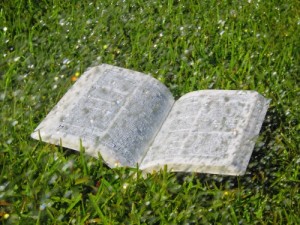 The water simply beaded up and was very easy to wipe off.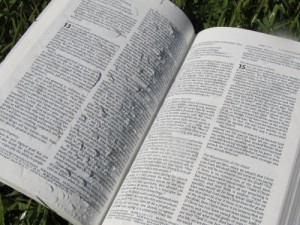 I also tried to grind some grass onto the pages but they just wouldn't 'grind'.
Then I put it through the 'float' test.  I stuck it in our little half-barrel fountain and lo and behold it did just float on the top even under the water flow. The water just spread out over it.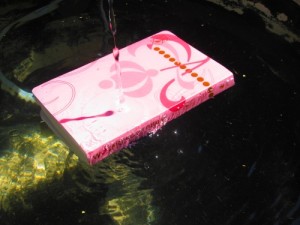 Now the Bible was what should have been good and soggy, but I squeezed the water out, wiped the pages, and it was good as new.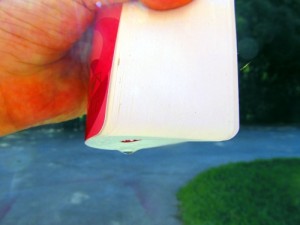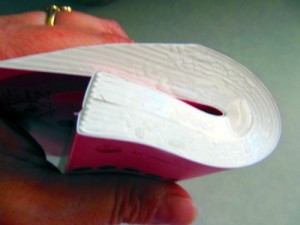 And because the water does not get absorbed into the pages and it is made from synthetic materials, there is little chance of mold and mildew growing.  I would consider this a huge benefit especially for those in flood prone situations.
Regular highlighting markers don't work with the Waterproof Bible. You need to use those special dry highlighters, a ball point pen, or pencil. I tested a regular highlighter.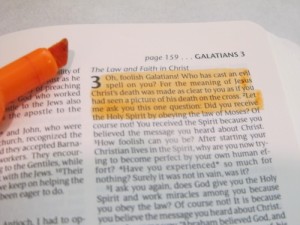 It sure does wipe right off. (Picture shows partial removal for comparison purposes.)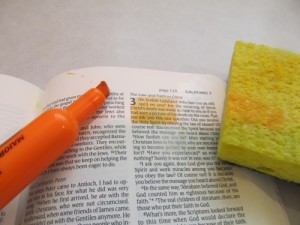 Next I thought about all the times when my children were younger I would open a book to find that they had added their artistic touches. So I put the book to a crayon test.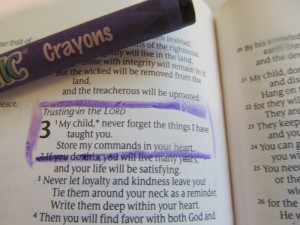 With just a little scrubbing, the crayon was removed. (Picture shows partial removal for comparison purposes.)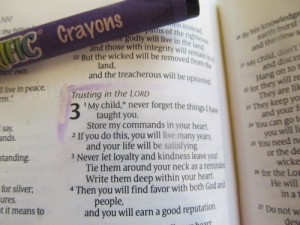 Feeling a bit of confidence in the product, I thought of something notorious for staining; food coloring.  I really was apprehensive to test that, but after doing a small spot test, I took the plunge.
The few drops beaded on the top.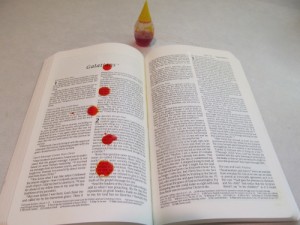 Then I closed the book and tried to smear it in.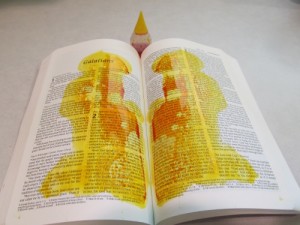 I was so tickled to find that not only with a few wipes of the sponge there was no more food coloring but there also was no discoloration of the pages.  My hands were worse off than the book. (Picture shows partial removal for comparison purposes.)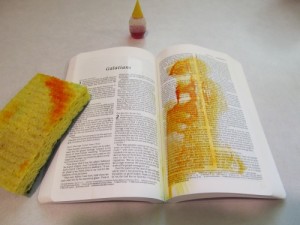 The last thing I tested was a permanent marker.  This did not wipe off, but it also did not smear, smudge, or bleed through to the back side of the page.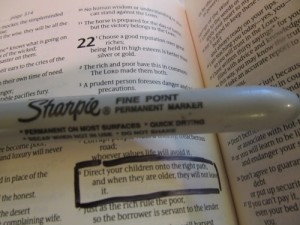 If you look really closely at the back side of the page, you can almost make out where the other page is marked, but it is barely noticeable.  You would have to be really looking.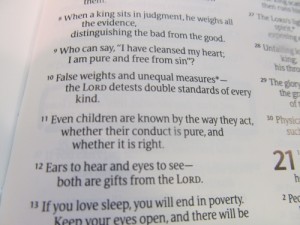 I can see all kinds of uses for the Waterproof Bible in ministry and daily life.  I think it would be a great investment for those who do water baptisms, especially river, lake, or poolside.  Missionaries working in humid or damp climates can carry one along with confidence that it will remain intact. Outdoorsmen could take it with them on their adventures, store them in their fishing tackle boxes, or keep them on their person without worry.  Mechanics, who would more than likely refrain from taking the Gospel with them to the work place, would not have to worry about their greasy hands harming their Bibles.  How about those who visit or work with the sick?  Because this Bible can be cleaned, this may be just the ticket to be sure you are not spreading germs.  Our military can have the Word of God, sturdy and strong as they are, readily available on their deployments.  How wonderful to be able to put Bibles into the hands of those who live and work in extreme conditions.  Bardin & Marsee Publishing partners with other ministries to make that possible.  You can go HERE to learn more about this endeavor.
I will be keeping my Waterproof Bible in our camping supplies to have it ready whenever we are traveling.  Swing by Bardin & Marsee Publishing's website to learn more or purchase your own Waterproof Bible.