I am grateful that I live in a country that has provided me the privilege to vote without the fear of persecution. I am thankful to those who fought to give me that privilege and I do not take it lightly so that their work would not be found to be in vain. Scripture encourages us to select leaders that we deem respectful of God, truthful, just, and wise (Exodus 18:21, 2 Samuel 23:3, Deuteronomy 1:13).  This may not always be an easy determination. In a perfect world the candidates would be transparent and completely align with our beliefs so the decision would be simple, but this is not always true. We need to prayerfully approach the election process weighing each person's attributes, experience, and actions against our values. The scales may not be balanced but we need to treat this privilege as an obligation and honor that obligation by taking action. I know that, though we vote for the person we each think would best lead our country, God is the ultimate Leader and rules over our lives, if we allow Him. No matter who is in place as rulers of our nation, Jesus is ruler of our hearts.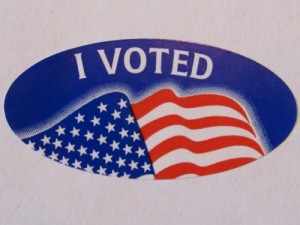 Romans 13:1~Let every soul be subject unto the higher powers. For there is no power but of God: the powers that be are ordained of God.
I am linking up with Garden of Learning's Gratitude Challenge and Teaching Good Things 30 Days of Gratitude.