When my children were younger, in addition to morning devotions, we used to start each school day by reciting the Pledge of Allegiance to the American flag, to the Christian flag, and to the Bible as well as singing the first verse of the Star Spangled Banner. I felt it was important for my children to know and understand these simple affirmations of patriotism and spirituality. I have created 3 beginner copybooks to help your little ones with the pledges. Using a horizontal format and larger sized spacing makes them great for those young ones still mastering the writing process. These books include manuscript, transitional manuscript, and cursive pages allowing you to select the pages for your child's skill level. There is an illustration box on each page so that your child may artistically express what the line means to them helping to commit the text to memory.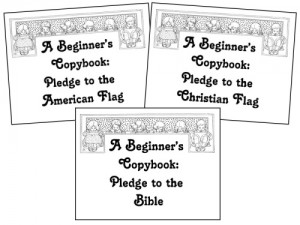 You may download these books by clicking on the cover images below:
A Beginner's Copybook: Pledge to the American Flag
A Beginner's Copybook: Pledge to the Christian Flag
A Beginner's Copybook: Pledge to the Bible
You may also find A Copybook of the Star Spangled Banner-First Verse that you can use with your older student(s) HERE.
Like these Freebies? Tell us what you think by leaving a comment.
See our other products HERE.