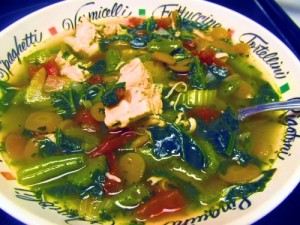 I love soup of all kinds and eat them year round. While I usually like to add pasta of some kind to bulk up the soup, I am currently trying to get to a healthier weight so this recipe really fits the bill. Even without the pasta bulk up, it is super satisfying, simple, and a possible variation of something you already make in your own kitchen. Overflowing with nutritious vegetables, this soup is a tummy filler for sure.
Ginny's Abundant Vegetable Chicken Soup
2 tablespoons olive oil
2 stalks celery, sliced thin
½ pound baby carrots, thinly sliced (I used my salad shooter to slice)
½ large onion — chopped
2 carton chicken broth, 32 oz cartons
1 can (15 oz) diced tomatoes, with juice
1 cup green beans (I used frozen green beans)
1 pound cooked chicken breasts, cut into bitesize pieces
1 cup frozen spinach (double amount if using fresh and chop if desired)
2 pinches Italian seasoning (more or less to taste)
2 pinches basil (more or less to taste)
salt to taste
Pepper to taste
Heat olive oil in large pot. Add onion, celery, and carrot and gently sweat the vegetables (do not let them brown or caramelize them).
Add chicken broth, tomatoes with juice, green beans, and cooked chicken to pot. Season to taste preferences.Over medium heat, bring to a gentle boil.
Reduce heat to low and simmer until vegetables are to your liking. I like them to be crisp-tender.
When vegetables are to your liking, add spinach. Continue to cook until spinach wilts and is a dark green color.
Serve and enjoy.
Servings: 10
Yield: 10 cups
Cooking Times
Preparation Time: 15 minutes
Cooking Time: 30 minutes
Total Time: 45 minutes
*I use Aldi brand Fit & Active Chicken Broth 32 oz cartons but 8 cups of homemade or other prepared chicken broth can be substituted.
**You may use all fresh vegetables if you have them on hand and increase the amounts as wanted.
****You may also wish to add other vegetables such as peas, corn, okra, broccoli, cauliflower, or any of your other favorite vegetables.
****This recipe was created to be in compliance with Cycle 1 of the 17 Day Diet. Please consult your allowed vegetables list before changing this recipe to stay within the diet's guidelines.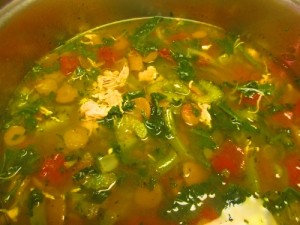 You may download the PDF of this recipe here.