I have been working on my Home Manager whenever I get a spare second. As any mother can attest, those are few and far between. I am using an old zipper binder that has clear little pockets to put pictures into on the front like the kind for photo albums. I chose to use pictures of my family and home as inspiration, including a silly picture of me at the beach this summer pretending to be Super Mom (not). I included that caption to remind myself that I don't have to be 'Super Mom'; I just have to do my best. I put Titus 2:5 as a scripture reference in one of the pockets. I like the idea of the little pockets because I can change 1 or all of the elements, as I like.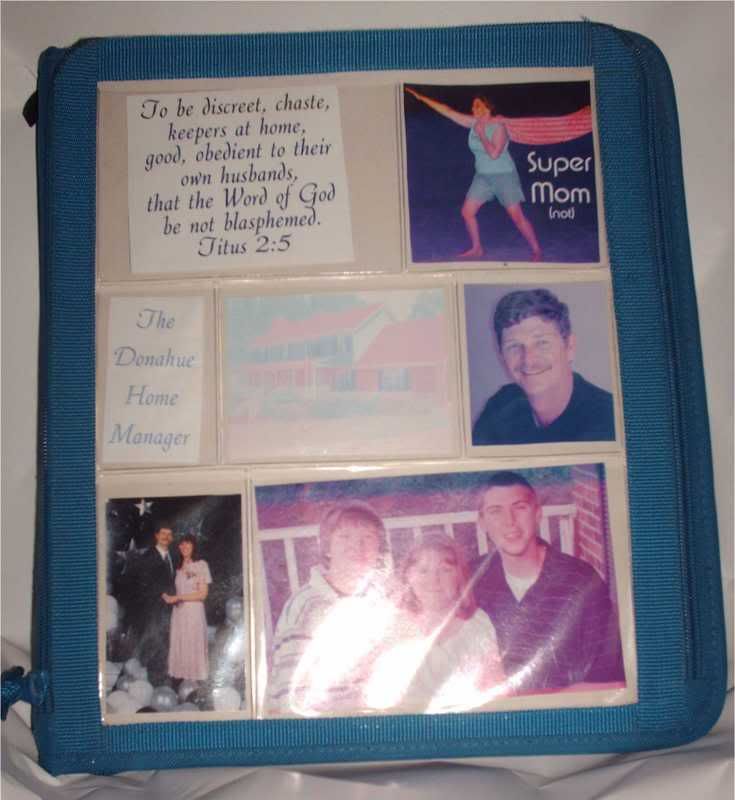 The past 2 weeks I have been using a 'Week at a Glance' page that seems to be working well so far. On it I can record events, menus, things to remember to do and other sanity saving information. I've made a few modifications to my first one and will be trying each over the next few weeks to see which one works best. I've chosen not to use color or too many graphics to save on the ink.
Click on the form titles below to download.
Week at a Glance 1-horizontal
Week at a Glance 2-horizontal
Week at a Glance 3-vertical
I was able to clean the catchall room this past weekend and this weekend I will be tackling the pantry. Slowly but surely it is all coming together and is amazingly still staying clean. The kids have been very good in the evening doing a 'once over' their bedrooms every night. They are very proud of themselves and so am I.