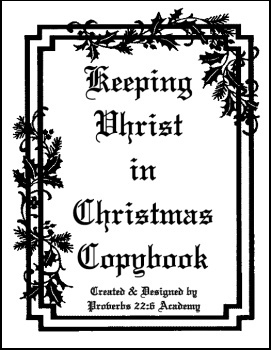 Keeping Christ in Christmas Copybook is a black and white copybook broken down into 4 sections of biblical selections from the King James Bible. Filled with the Scriptural promises and the story of the birth of our Savior, these 28 passages were gathered together and copywork pages created to be used during the 4 weeks of December but can be used any time of year.
Week 1 contains 7 passages prophesying the coming of our Savior, Jesus Christ.
Isaiah 7:14

Isaiah 9:6

Micah 5:2

Jeremiah 23:5

Isaiah 40:3

Jeremiah 33:14

Jeremiah 33:15
Week 2 focuses on the Scriptures from Isaiah which prophesy about who Jesus is and what He will do.
Isaiah 11:1

Isaiah 11:2

Isaiah 11:3

Isaiah 11:4

Isaiah 11:10

Isaiah 40:11

Isaiah 42:3
Week 3 uses passages from Luke 1 and Luke 2 and focuses on Gabriel's visit to Mary and her giving birth to Jesus, fulfilling the prophesy of Isaiah 7:14, "Therefore the Lord himself shall give you a sign; Behold, a virgin shall conceive, and bear a son, and shall call his name Immanuel."
Luke 1:26-27

Luke 1:30-31

Luke 1:32-33

Luke 1:35

Luke 1:37-38

Luke 2:6

Luke 2:7
Week 4 includes the following Scripture passages of fulfillment, encouragement, and promise.
Luke 2:8

Luke 2:10

Luke 2:11

John 3:16

Galatians 4:4-5

Galatians 4:6-7

Luke 1:68-69
Each section of this e-book has all three font versions:
manuscript, transitional manuscript, and cursive.
The passages are written with guidelines aiding in the proper formation of letters.

On each page is a block that can be used by the student to illustrate the passage.

The passages can be used for penmanship practice, memory work and/or Bible study.
View a sample of this item HERE.
$1.99