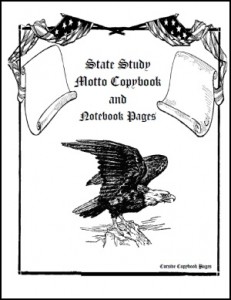 The State Study Motto Copybook and Notebook Pages-Cu
r
sive
is a versatile collection of pages to enhance your study of the United States. This black and white e-book uses a lined cursive font.
The 168 pages are broken down into 4 sections. The first section contains
51 pages of motto copywork
, one page for each state and a page for the United States. On each page is the state motto along with its
language origin
and
translation if applicable
. There is space to copy the motto with guidelines to aid in proper letter formation. Included on each motto page you will find an
informational block
for the student to fill in with other facts about the state,
a state outline map
,
the state flag to color
and a
United States map to shade in the state location.
On each page of the next section you will find
2 outline maps for each state
, a blank outline map and a political map with the county, borough or parish lines. Included in this section are pages to create
state flash cards.
The third section has a
collection of over 30 notebook pages
to choose from to fit your needs. Topics include:
State Facts, State Symbols, Interesting People, History, Current Events, Government, State Pledge, State Song, Places to See, Plants and Wildlife, Colleges and Universities, Industry, Agriculture, Sports, Local Flavor, Timeline,
and 6 different untitled notebook pages.
In the final section of this book you will find a
State Facts chart, State symbols chart, and the United States Fact chart
to help fill in the State Facts blocks on the Motto Copy pages. There is also a short list of useful websites, miscellaneous United States and World maps, handwriting charts, and extra practice paper with guidelines.
View a sample of this item HERE.
$5.99