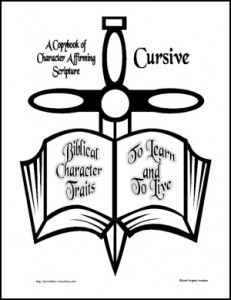 Biblical Character Traits to Learn and to Live-Cursive is a black and white copybook of character affirming Scripture passages.
The cursive e-book version uses a standard cursive text with guidelines to aid in proper letter sizing. On each page is a favorable character trait and a corresponding King James Scripture passage. The passage is first read and discussed, then student copies the passage in the provided space. The student can then proofread their work and make any necessary corrections. On each page is a block that can be used by the student to illustrate the trait. The passages can be used for penmanship practice, memory work and/or Bible study. There are handwriting charts and blank practice pages included in the back of the book.
View a sample of this item HERE.
$4.99