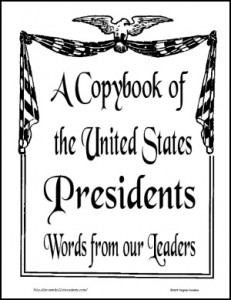 Gathered from Presidential speeches and other public works by the Presidents, this is
a collection of their words
. This copybook can be used in conjunction with any
study of American History
or can be used as a
cornerstone
for a
study of the United States Presidents
.
This e-book includes 2 handwriting skill levels: manuscript and cursive.
Each page features a different President and a quote for the student to copy.
The quotations are written with guidelines aiding in the proper formation of letters.
The student can then proofread their work and make any necessary corrections improving spelling and editing skills.
A Fast Facts box is include on each page that can be used by the student to fill in information about the President's life.
Parent key for Fast Facts information included.
Also included for each President is a notebook page for student reports and extra copy work practice.
Copy work is an excellent way to master handwriting skills, improve memorization, and build an understanding of grammar, as well as a wonderful supplement to any study.
Created in cost effective black and white.
View a sample of this item HERE.
$5.99